Student Jobs
Join the DoIT Team and earn while you learn!
The Division of Information Technology (DoIT) offers a great workplace with many opportunities for student employees. You'll not only earn money, you'll also learn valuable skills for your resume when you graduate. We are currently hiring customer-friendly, part-time student staff. Don't worry if you don't know much about computers. Depending on the type of job, if you have the technical aptitude and an interest in providing exceptional customer service, we will train to get you up to speed on the skills you will need.
Learn more about the different types of opportunities:
Departmental Support
Departmental Support provides flexible and cost effective IT support for departments and organizations at UW-Madison. Support options range from as-needed technical support to full-service onsite departmental IT support. Our students and full-time staff also provide support on a number of short- and long-term technical projects to meet the diverse and growing needs of the campus community.
Apply for Departmental Support positions at the Applicant Portal.
DoIT Tech Store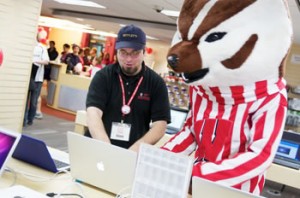 Looking for a new challenge? Love technology and helping people? Then we have the position for you! The DoIT Tech Store at the University of Wisconsin – Madison offers the latest and most cutting edge technology products and services to our prestigious campus. These products and services include computer hardware and software, supplies, computer repair and installation, network installation, and mobile computing.
If you are an outgoing individual with superior customer service skills, attention to detail and problem-solving skills, we want you to join our high performing team! The DoIT Tech Store is an extraordinary place to work, where you'll gain invaluable work experience, build your professional network and thrive in a fun and exciting work environment.
Apply for DoIT Tech Store positions at the Applicant Portal.
Help Desk
The Help Desk hires the most students at DoIT and offers flexible schedules during our operating hours of 6 a.m. to 1 a.m., seven days per week. Positions available to students include:
Support Specialist I: Entry level position providing phone, chat, and email assistance for basic computer problems.
Support Specialist II: Intermediate position supporting and resolving more advanced computer problems via phone, chat, and email.
Apply for Help Desk positions at the Applicant Portal.
Computer Labs
DoIT staffs two general-access computer labs at Memorial Library and Union South.  In addition, there are 16 general-access computer labs on campus that hire student staff independently from DoIT.  As a lab consultant, you will provide entry-level information and technical assistance to lab users.  To apply for a computer labs position, send a cover letter and resume to infolabs@doit.wisc.edu.
Software Training for Students
Software Training for Students (STS) offers free technology training to registered UW-Madison students. Student trainers are responsible for teaching 2-hour classes to students, developing curriculum and assisting with the integration of technology in academic classes.  To apply for a software trainer position, send a cover letter and resume to sts@doit.wisc.edu.
Information Technology Academy
The Information Technology Academy (ITA) is an innovative pre-college initiative for diverse students in the state of Wisconsin. Currently, ITA has programs in Madison, Lac du Flambeau, and Oneida, WI. Through its triple focus on academic preparation, leadership development, and technological literacy, ITA prepares promising high school students for learning and leadership in the 21st century digital age.
ITA hires student hourlies in a variety of capacities, including technology instructors for ITA Madison, technology and academic instructors for ITA-TTI, tutors, and administrative support. Most ITA student staff are technology instructors, teaching various computer and technology classes during ITA Madison Saturday sessions, ITA-TTI cohort weekend sessions, and summer camps in Madison, Lac du Flambeau, and Oneida.
Recruitment for technology instructors is continuous. To apply for an ITA Madison technology instructor position, send a cover letter and resume to ajkrill@doit.wisc.edu. To apply for an ITA-TTI Lac du Flambeau or ITA-TTI Oneida technology instructor position (based in Madison with travel to Lac du Flambeau and Oneida), send a cover letter and resume to christopher.kilgour@wisc.edu.
Other jobs at DoIT
DoIT also employs student help in other areas within DoIT.
Office Support
Security
Programming
Web Design
Data Center
Student Advisory Board
Search and apply for these jobs at the Student Job Center.