Chief Information Officer (CIO) & Staff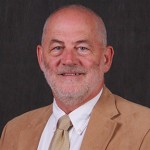 Bruce Maas is the Vice Provost for Information Technology and CIO at the University of Wisconsin-Madison. He has served the University of Wisconsin System in a variety of roles over a career of more than 30 years, including Budget Manager, Assistant Dean for Business Affairs, PeopleSoft Project Manager, Deputy CIO, Service Center Transition Coordinator, and CIO at two UW institutions.
In November 2012, Bruce was appointed to a four-year term on the Board of Directors of EDUCAUSE, a nonprofit association whose mission is to advance higher education through the use of information technology. Prior to his appointment, Bruce served as Director of the EDUCAUSE Leadership Institute, a faculty member of the institute, and as chair of the Midwest EDUCAUSE conference.
Bruce believes strongly in the importance of organized employee development. He is an advocate for central and distributed IT collaborations and partnerships. Bruce is focused on the core mission of higher education, and believes it is a privilege to serve that mission.
Related article: UW-Madison names chief information officer (June 8, 2011)
The CIO oversees:
The Division of Information Technology
CIO staff and office functions include:
CIO staff offices are located in room 502, 445 Henry Mall, Madison, 53706. The office number is 608-262-5381.