Version 11 of iOS brought some big changes. From dropping support for many older apps that hadn't been updated to the 64 bit architecture, to the new user interface and it's "Control Center" its a seachange for the OS. But did you know it also includes new features meant to help keep you and your data safe? And did you know that Android phones have similar features?
Driving Mode, a.k.a. "Do Not Disturb While Driving"
Distracted driving is dangerous. In 2015, nearly 3500 people were killed as a result of it, according to the National Highway Travel Safety Administration (NHTSA) statistics. IOS 11 can help you make the nation's roads safer with it's "Do not disturb while driving feature."
This feature will not seem entirely new to Android users who've been able to squelch notifications, alarms, calls and other distractions with Android's "Do not disturb" settings ever since Marshmallow came out, but Apple has put its own stamp on the IOS version of the feature. When enabled, your phone will detect when you're driving, or at least when you're moving at driving speeds, and will blank your screen, and silence notifications, incoming texts, and other distractions. 
To Enable DNDWD
Open Settings
Tap "Do Not Disturb"
Tap "Activate" under Do Not Disturb while driving"
Choose whether to manually enter DND mode, or have it automatically detect when you're driving.
Emergency SOS
If you're ever in a life threatening situation, you'll need to be able to call for help as quickly as possible.  You might also, if under duress to unlock your phone, want to quickly disable touch id on your phone. With iOS 11, if the Emergency SOS feature is enabled, you need only hold down the side and either volume button, or push the side button 5 times in rapid succession, and 2 things will happen.
Your lock screen will display a slider to dial 911,
Your phone will disable Touch ID, forcing you en enter a lock code to unlock it again.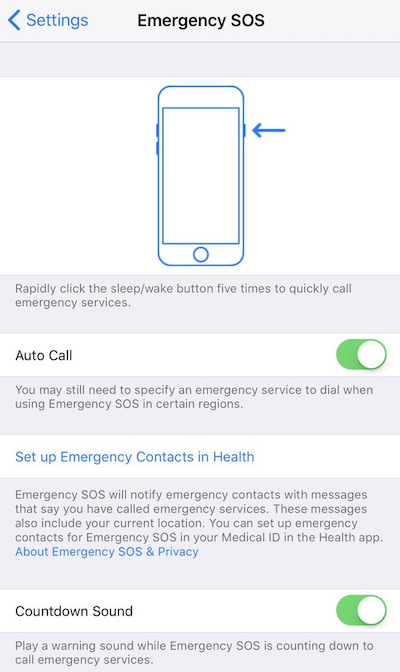 The emergency calling and Touch ID disable features can be enabled separately if you like. You can also set up other emergency contacts to be notified with your location when you hit the panic button. The feature is enabled by default, but if you want to modify the settings, read on.
Emergency SOS Settings
Open Settings
Tap "Emergency SOS"
Samsung Galaxy Android phones since the S6 model also have an Emergency SOS feature, described here. There are also various apps in the Google Play store that purport to mimic the feature. Among these, the SOS Emergency app is well reviewed with over 10,000 installs.
Obviously, safety is personal and situational, and for some reducing distractions while driving or making emergency calls more quickly may seem like modest improvements, yet others may find them vital. What do you think? Are these useful improvements?
For more on new features in iOS 11, see the related articles below.
Related articles