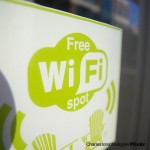 Smartphone users, and pretty much anybody who takes their laptop with them has encountered the problem. You need a Wi-Fi connection on the go. In searching for a wireless network to use, you find your device has discovered a mash-up of private, and sometimes free wireless networks.
Should you connect to that unsecure Wi-Fi hotspot?
It's been well documented that when you do connect to an unsecure network, there are a number of ways unscrupulous individuals could capture your data, including private data and login credentials.
All types of devices are at risk. There have been recent reported vulnerabilities on iOS devices, further emphasizing the importance of connecting to trusted wireless networks.
So, what is the difference between a "trusted" and an "untrusted" network? There are many answers. But the simplest is to consider who is sharing that network. Does the network require you to sign-in with credentials? Is it limited to only people and managed by your organization?
An example of an untrusted network is the one you may use at the local coffee shop. Anyone can connect to the network simply by providing a commonly used code or accepting the terms and conditions.
How can you make sure you're secure online?
Use UW-Madison's trusted wireless networks: UW-Madison uses two trusted wireless networks: UWNet and eduroam.  Both use secure authentication to protect NetIDs and passwords. (Need a hand connecting to UWNet?)
Use a Virtual Private Network (VPN): WiscVPN, a data encryption tool, is also strongly recommended when you access any wireless network. It is recommended to always use WiscVPN when connecting to an untrusted network. When in doubt, use the VPN.
Untrusted wireless networks: For best security practices, never use untrusted wireless networks.
Stay safe: Follow these steps to be secure on the UW Network.