A message from Lois Brooks, vice provost for information technology and chief information officer:
Dear colleagues,
It's Women's History Month, and I want to use this space today to talk about some of the women who have inspired me. I've had the privilege of learning from and working with many incredible women in my career, and I'm gratified that UW–Madison has a strong record of women leaders and innovators. I've also been happy to see a long-overdue uptick in our efforts to tell the stories of women who have had a major impact in STEM fields, especially the women of color whose work was foundational to developing the technology we take for granted today.
When talking about inspiring women, I have to start with Chancellor Emerita Becky Blank, who we lost to cancer last month.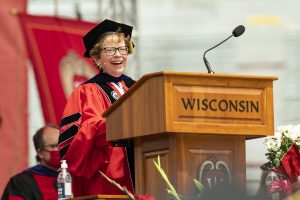 I had the privilege of working with Chancellor Blank for 4½ years, and I have to tell you, in a university full of smart people, she was always the smartest person in the room. She had a world-class intellect and a way of getting right to the heart of the matter in a frank and forthright way while always remaining kind. She was a brilliant economist who dedicated herself to public service and using research and public policy to combat poverty.
Chancellor Blank expected the best from us, and she brought the best out of us. I've always made a point of being prepared and using my time with leadership wisely, but whenever I met with her I had to take it up another level because I knew she would ask sharp, pointed questions that could go three levels deep into any topic.
But her most inspiring characteristic was her courage. In a position where she had to navigate a lot of politics and competing interests, when she decided that something was the right thing to do, she made it happen. She would stand up to objectors and say, "No, this is the right thing to do. We're going to do it." You don't have to look further than the new center for the university's Public History Project that will bear her name for evidence of that.
That courage — that audacity — is a common characteristic in great women. Throughout much of our history, excelling in math, science, technology, politics or the arts has for women meant having to take risks and work twice as hard without encouragement or hope of acknowledgment. The women who persevered through those circumstances to achieve great things deserve our respect and thanks.
Here are a few who particularly inspired me:
As UW–Madison's first chief information officer, my predecessor Annie Stunden led DoIT from 2000 to 2006 at the end of a nearly 4-decade career in higher education IT. Under her leadership, the division completed a significant modernization effort that enhanced UW's network speed, security, and capacity at a pivotal time in the history of technology and the internet. Her focus on building partnerships and continuously improving our systems to facilitate the university's mission laid the groundwork for the DoIT we know today. As one of the earliest women to serve as a higher education CIO, Annie opened doors for those of us in the next generation, mentoring, advocating and using her position and network to help others advance.
A fixture of NPR News for more than 20 years, Michele Norris is one of the most trusted national voices in journalism today. Her outstanding work has earned her well-deserved accolades, including an Emmy, 2 Peabody awards and the Journalist of the Year award from the National Association of Black Journalists. Fun fact: She's also a Badger! But her biggest contribution may be The Race Card Project, which sprang from her personal history. I was fortunate to meet her briefly when we were on a panel about education together a few years ago, and was struck by her sense of purpose and sharp intellect.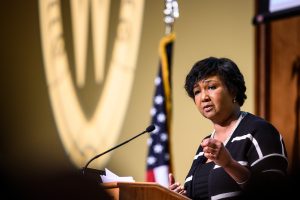 Mae Jemison, a brilliant chemical engineer and physician, was the first Black woman to travel to space in 1992, orbiting Earth 127 times in 8 days on NASA's Endeavor space shuttle. I saw her speak a few years ago, and she talked about enrolling in Stanford at just 16 years old and how some of her professors were less than thrilled to have her in their classrooms. She persevered and her accomplishments are extraordinary. In addition to all she's achieved, I admire how she's using her influence now to further access to science education for children.
On the subject of space exploration, in many ways we have Margaret Hamilton to thank for the moon landing. Hamilton wrote the software which made the Apollo missions possible and is one of the people credited with coining the term "software engineering." Her work legitimized software development as a field of study on par with other engineering disciplines and opened doors for more women to enter STEM fields of study.
I could keep going. There's Ada Lovelace, who wrote the first computer algorithm; Marie Curie, who pioneered research on radioactivity and discovered polonium and radium; Tú Yōuyōu, who discovered new treatments for malaria that have saved millions of lives, earning her the Nobel Prize; Joan Mitchell, who co-invented the JPEG image format; Maryam Mirzakhani, who received the Fields Medal for her groundbreaking work in geometry; and Helen Murray Free, who invented a medical testing method that revolutionized health care for people managing diabetes and other diseases.
I encourage you to explore the history of women in STEM this Women's History Month (and all months). There are so many women — in the past and alive today — whose accomplishments should make their names as easy to recognize as Isaac Newton and Thomas Edison. But it will take all of us telling those stories to make that a reality.
Best,
Lois
Related