10 minutes to read & watch videos | Last updated June 15, 2022
Phishing is a form of fraud where a scammer attempts to have you reveal personal financial or confidential information by posing as a reputable entity in an electronic communication. Many scammers try to bait you by urging you to respond immediately by clicking a web link that appears official (with all the familiar logos or corporate phrases). Even if the request looks genuine, be skeptical and look for these warning signs:
How to Recognize Phishing Attempts
1. The message is unexpected and asks you to update, confirm or reveal personal identity information (e.g., full Social Security Number, account numbers, NetID, passwords, protected health information).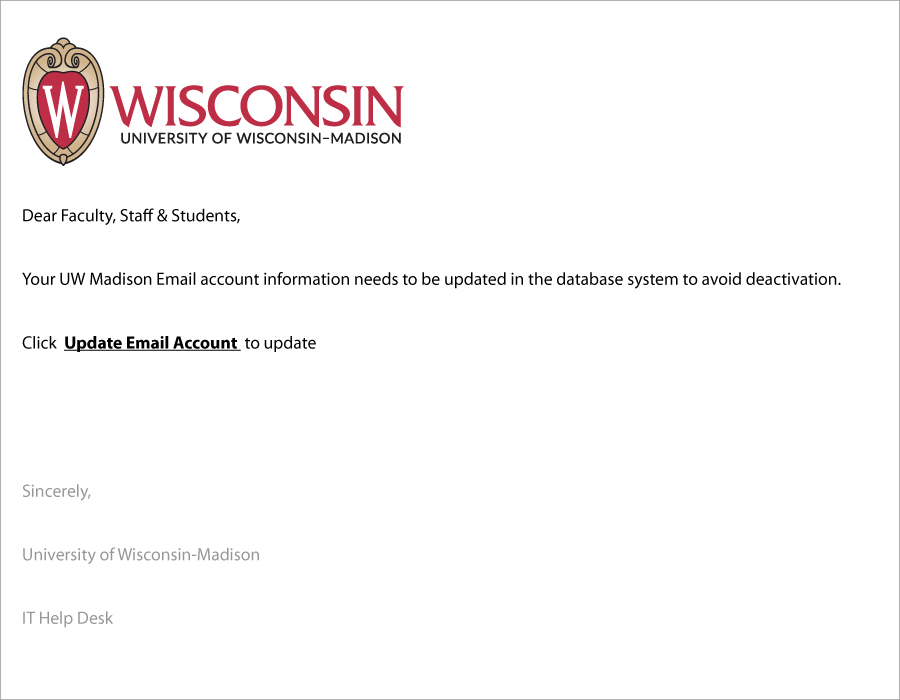 2. The message creates a sense of urgency.
3. The message may include an unusual "From" address or an unusual "Reply-To" address instead of a "@wisc.edu" address, it may even be a compromised "@wisc.edu" address.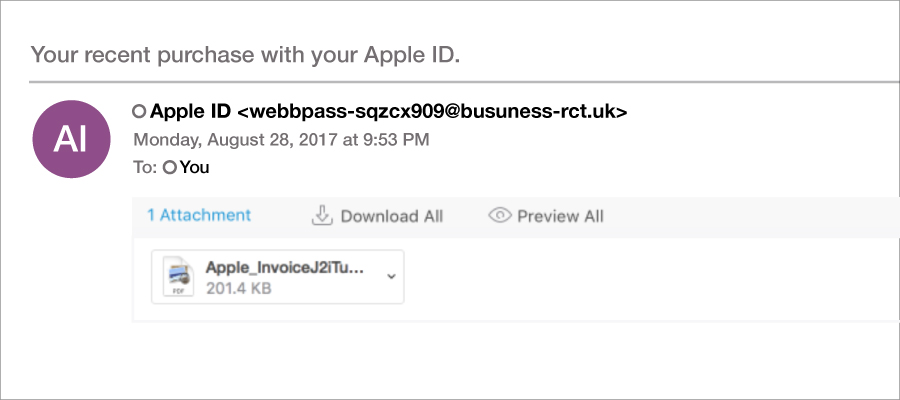 4. The message includes links that don't match the name of the organization that it allegedly represents. For example: https://wisc.edu could be slightly changed to read: https://wIsc.edu.
5. The message includes grammatical errors (although scammers are getting better at this).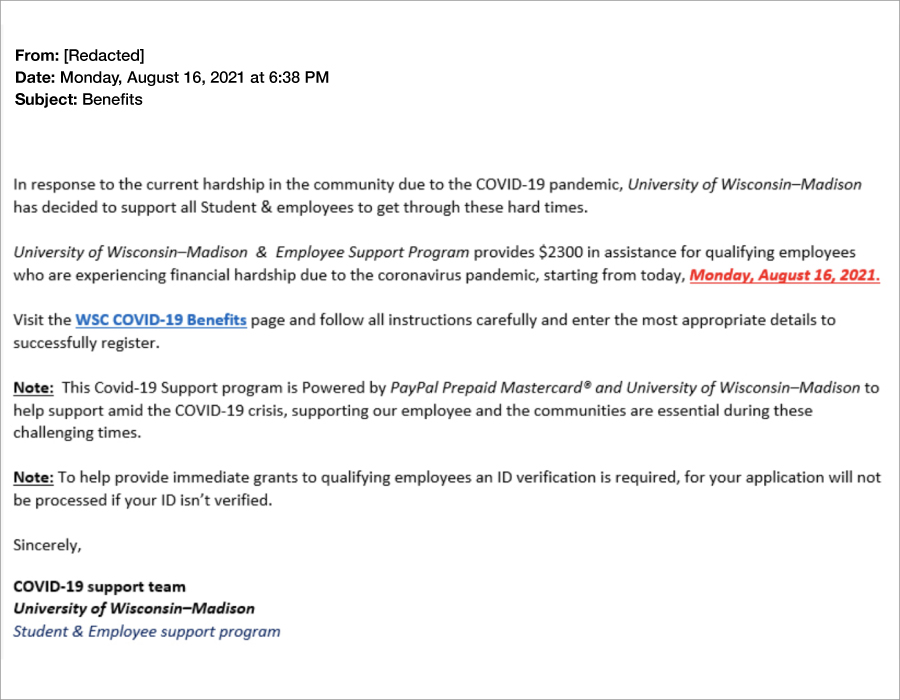 FAQs
This is an accordion element with a series of buttons that open and close related content panels.
What is a URL?
A Uniform Resource Locator or URL is a web resource that specifies its location on a computer network. It's normally displayed in the address bar at the top of a browser in the following format:
https://www.it.wisc.edu/learn/securing-your-computer/
Here are the parts of this URL:
https:// = Protocol
www. = Host name
it.wisc.edu = Name of site
/learn/ = Directory path
securing-your-computer/ = Absolute path
How do I hover over a hyperlink to see where it goes?
Take your cursor and place it over the top of the hyperlink (without clicking). The hyperlink's destination will appear on your computer screen.
For example: hover over this hyperlink: Securing Your Computer (Source: it.wisc.edu). The source states it's from "it.wisc.edu". As you hover over it you should see the following URL address on your computer screen: https://it.wisc.edu/learn/securing-your-computer/
How do I enable URL link previews in Safari?
Launch Safari on your Mac.
Go to View > Show Status Bar.
The URL-peeking Status Bar should now appear at the bottom left of the window any time you hover over a hyperlink on the web page.
How do I enable URL link previews on iPhone or iPad?
Open a page in Safari on your iPhone or iPad.

Tap and hold any link on the page.

If you're running iOS 13, iPadOS 13, or higher, you will see a thumbnail preview of the page pop-up. To preview the URL instead, tap the "Hide Preview" button located at the top of the pop-up window.
How do I preview a link in Windows?
To preview a link, simply tap and hold.

You can toggle this feature on or off via Settings > Link Preview.
How can I preview links in the Chrome Android app?
Go to any link on a web page and tap and hold on it until a menu pops up.

Select the "Preview page" option from the list.

A preview will open up and show at the very bottom of the screen.

To fully open the preview, you can either tap on it or swipe upwards from the bottom.
How do I report Phishing?
Office 365 users:
To report phishing emails received via Outlook, please click the "Report Phish" button on the toolbar/ribbon located at the top of your page (or in the "…" for the newest version of O365). This action will send the questionable email to the UW–‍Madison Cybersecurity Operations Center (CSOC) for review.
Non Office 365 users: 
If you do not see the "Report Phishing" button, then forward the message as an attachment  (Source: KB 34567) to abuse@wisc.edu. Please do not simply forward the questionable email, as this will prevent us from seeing the header of the message and make it difficult to take appropriate action.
For additional information, please refer to: Office 365 – Submit a message as spam/phishing (Source: KB 45051).
If you are ever unsure whether an email message is legitimate, or what you should do with it, DO NOT RESPOND to it! Instead, contact the DoIT Help Desk (Source: kb.wisc.edu) for advice.