We get it. We're in the midst of a long pandemic—and if you're getting vaccinated, you may be feeling a little excited. Hopeful for better days ahead.
But if you take a selfie with your vaccination card and post it on social media, you may be signing up for more than just being "vac-SEEN" by your friends and family.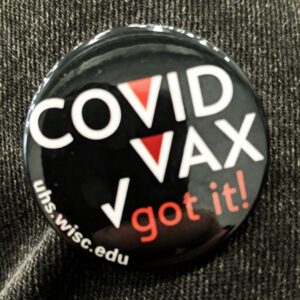 Scammers are always on the lookout for ways to use your personal information against you. And because your vaccination card contains your full name, your birthdate, when and where you got vaccinated (including the lot number for your vaccine), you may be handing valuable information over to a bad actor who could use it for identity theft.
"Think of it this way—identity theft works like a puzzle, made up of pieces of personal information. You don't want to give identity thieves the pieces they need to finish the picture," says the Federal Trade Commission (FTC) in a recent blog post, Social media is no place for COVID-19 vaccination cards.
"Once identity thieves have the pieces they need, they can use the information to open new accounts in your name, claim your tax refund for themselves, and engage in other identity theft," the FTC adds.
The FTC also advises checking your privacy settings for your social media accounts, to make sure you're limiting what you share to people you know personally, and configuring your settings to avoid sharing information with strangers. Check out What To Know About Identity Theft for more tips from the FTC about protecting your information against identity thieves.
Another reminder: They may seem like harmless fun, but be careful about taking online quizzes and participating in viral trends, like posting your high school senior picture. By doing so, you can unintentionally reveal information about yourself that hackers and scammers can use against you.
So while you're protecting yourself and others by getting a COVID-19 vaccine, protect your personal information by keeping your vaccine card out of your vaccine selfie. Or if you do post your vaccination card, make sure you cover up the key details.
And if you're lucky enough to get a sticker or a button when you're vaccinated, consider posting that on Instagram instead!
COVID-19 Vaccine Information