Colleagues,
I am pleased to announce that Dominic J. Ledesma, PhD, has accepted our offer to join us as the Division of Information Technology's inaugural assistant vice provost for culture, climate & engagement. His first day will be January 2.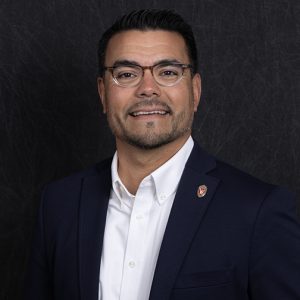 A thought leader, organizational strategist and social architect with deep ties to UW–Madison and extensive higher-education administration experience, Dominic will lead our strategy for equity, diversity, inclusion and belonging (EDIB). He will architect and lead division-wide efforts in strategic planning, goal setting, tracking measurable outcomes, and managing EDIB and social justice-related training and programs.
As part of that effort, he will launch a new office in the division focused on employee capacity building and development, collecting and using data to advance EDIB goals, strategic consulting with the division and stakeholders, and helping us continue to move our culture and engagement forward. We'll share more about the new office in the coming months as Dominic gets his feet under him here.
"I am humbled and honored to join the division, and I am looking forward to the opportunity to further shape a vision for this new role and office," Dominic says. "As I moved through the interview process, I got a clear sense of this division's shared energy and enthusiasm for advancing EDIB goals and priorities. I want you to know that I am up to the task and that I am excited to work closely  with divisional colleagues and campus stakeholders to help us chart a strategic and coordinated path forward together."
As anyone who watched his finalist presentation knows, Dominic brings a wealth of experience, ideas and enthusiasm to this new senior leadership role.
He comes to us from the UW–Madison Division of Extension, where he has served as chief diversity officer and founding director of the Office of Access, Inclusion and Compliance. As Extension's CDO, he helped guide strategy and policy as part of the dean's leadership team and worked collaboratively to develop resources, tools and services for Extension staff. Notably, he was the primary architect for Extension's Call to Action, addressing strategic EDIB initiatives across 9 areas with measurable outcomes, and guided the development of their Learning Community for Inclusive Organizational Citizenship. His work building relationships and collaborating statewide has led to meaningful results within Extension's large, decentralized organizational structure. That track record will undoubtedly serve him well as he approaches this work in our division and across the university's distributed IT community.
But Dominic's roots in the Upper Midwest go much deeper than his time with Extension. A self-described "Minnesconsinite" originally from the Twin Cities, he is a 2-time Badger alum, having earned his bachelor's and doctorate degrees here. As an undergrad, Dominic was a Powers-Knapp Scholar—one of the university's oldest and most highly regarded student support programs (now part of the Mercile J. Lee Scholars Program). The program's emphasis on excellence in scholarship, leadership and service shaped him in profound ways. After graduating, he remained a passionate supporter and returned to serve as associate director of the program. He continues to work with the program as a mentor and alumni supporter.
After earning his master's degree from Universidad Autónoma de Guadalajara, Dominic returned to UW to attain his PhD in the School of Education's Department of Educational Leadership and Policy Analysis. There, he was a Michael W. Apple Fellow, was inducted into the Edward A. Bouchet Graduate Honor Society, and earned Dissertation of the Year from the department and the Joseph C. Beckham Outstanding Dissertation Award from the Education Law Association.
Please join me in congratulating Dominic and welcoming him, along with his life partner Lucía and daughter Citlali, into the DoIT community!
Best,
—Lois
Vice Provost for Information Technology and Chief Information Officer Lois Brooks
Division of Information Technology
University of Wisconsin–Madison