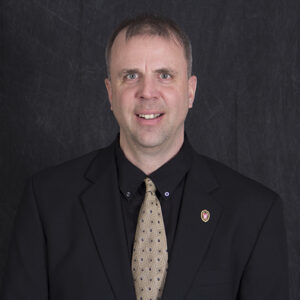 Jeff Savoy has been named chief information security officer (CISO) at the University of Wisconsin–Madison. The CISO heads the Office of Cybersecurity and supports the UW­­–Madison chief information officer (CIO) and the university by leading and managing efforts to reduce cybersecurity risk. In collaboration with campus partners, the CISO works to move security initiatives forward and provide risk guidance to university leadership.
Savoy has been serving as the interim CISO since July 2021. Prior to stepping into the interim role, he served as deputy CISO and assistant director of cybersecurity operations. Savoy has over 25 years of experience in information technology security, including a national reputation as an incident response expert. He focuses on leading and developing security staff, generating and implementing cybersecurity strategies, coordinating incident response and vulnerability programs, and collaborating with campus partners to reduce risk.
See Jeff Savoy's finalist presentation→
"I'm pleased to announce that Jeff Savoy has been named chief information security officer," says Lois Brooks, UW–Madison chief information officer. "Jeff brings a wealth of cybersecurity experience to this role, particularly in the world of higher education. This experience—along with his leadership skills, deep knowledge of our cybersecurity environment and strong relationships with university partners—will allow us to strengthen our already robust cybersecurity posture and take it to the next level." 
"I'm honored to accept the position of chief information security officer," says Jeff Savoy, noting that he has spent his career in higher education information security and looks forward to leveraging decades of experience to safeguard UW–Madison's technology assets.  
"Cybersecurity attacks have been on the rise nationally and we have seen an increase of these threats on campus, as well," adds Savoy. "To address this ongoing challenge, I plan to extend our risk-based approach that considers people, process and technology, and enhance our work to provide leadership with the necessary information to make informed decisions."
Savoy holds a Bachelor of Science in engineering mechanics from UW–Madison and will receive a Master of Science in cybersecurity management from Purdue University Global in December 2021. He will begin his new position on December 5.
"I am excited for the opportunity to keep campus cybersecurity efforts moving ahead," Savoy says. With a nod to the motto for UW–Madison's annual cybersecurity conference, Savoy adds: "As was said well in the past: 'Cybersecurity Forward!'"