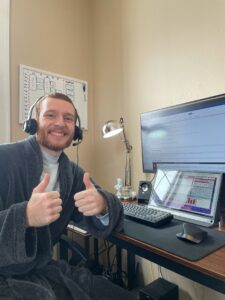 Looking for a rewarding new student gig? If you're inquisitive and like learning new things, join our Help Desk team as a support specialist!
No prior technical experience is necessary—we'll teach you everything you need to know. This is an entry-level, student position providing support to UW–Madison students, faculty, and staff.
Our Help Desk student employees span all majors, with a common passion for awesome customer service and learning new skills. 
Duties
Provide customer service to users both on and off-campus via phone, email, and chat.
Assist customers with common tools such as online learning software, email, and calendar applications.
Collaborate with other DoIT staff to resolve customer inquiries and ensure quality support.
Anticipated hours per week: 15 minimum during the semester, and anywhere from 15-40 during the summer.
Job Perks
Flexible scheduling. The Help Desk phone, chat and email service is open 7am-11pm, 7 days a week, so we regularly work around class schedules and accommodate other commitments students may have.
Learn technology and other marketable skills to impress post-graduation employers.
Participate in a wide variety of professional development opportunities including candidate interviews, representing DoIT in campus community presentations, and resume and interview workshops.
There are many leadership opportunities available from becoming a floor supervisor to joining our Student Leadership, Development, Technical Writing, and Senior Consultant Teams.
The starting pay for this position is $10.25. However, additional training opportunities are available for motivated students to develop at their own pace. Advancement at the Help Desk can be quick and comes with incremental pay increases. Our staff's average hourly rate is $12.60 per hour.
We have been successfully working fully remotely since mid-March and are continuously improving our remote experience to best work for our student employees. We provide all software and equipment (laptop, headset) that you may need to work this job from the comfort of your home.
Application Deadline: Feb 26
Don't delay! Applications close Friday, February 26, 11:55pm CST.