Wondering who's the person on the other end of your call, email or chat with the DoIT Help Desk?
Our 76 students currently working as level one Help Desk agents are your first line of assistance when you contact us. And while they're each as unique as a solid secure password, they all share a commitment to customer service and enjoy helping faculty, staff and students with their technology questions.
So follow DoIT on Instagram to meet our corgi-loving, "Saw" movie-binging, birdwatching, hiking, camping and gaming crew of helpful troubleshooters—and don't forget to contact the Help Desk when you need us!
Meet Joe
It's a big job to keep the Help Desk going through the challenges of the school year. Joe Knoelke, a senior in materials science and engineering, is one of the many people who run Help Desk with his work as a quality assurance agent and KnowledgeBase web writer.
Originally from Grafton, Wisconsin
Enjoys hiking and camping
Favorite class: AFROAMER 156 Black Music & American Cultural History
Why he loves working for the Help Desk:
"The sense of community. I have made a lot of good friends here over the years and it has made this job a lot of fun. It gives me a real sense of accomplishment, and having a job where I know I am helping people is very rewarding."
Best memory as a Badger so far?
"The first football game I went to freshman year was a night game, and was a wonderful 'welcome to college' moment."
Meet Lauren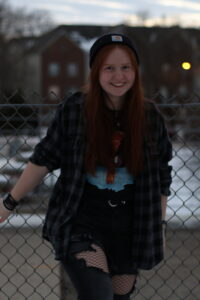 "A fun challenge while working at the Help Desk is trying to troubleshoot a program or program feature you have never seen or used before for a customer," says Lauren Flaschenriem, a sophomore in consumer behavior and marketplace studies, who also works as a student team lead at the DoIT Help Desk.
"It is rewarding to be able to solve others' issues when they contact us. Many of our customers are very thankful for our services and it is nice to know you were able to make someone's day even just slightly better."
Hometown: Menomonie, Wisconsin
Hobbies: Gaming (especially driving games) and birdwatching
"One thing that my friends or colleagues may not know about me is that I like birdwatching and taking photos of birds," Lauren says. "I also love feeding ducks—I think they are so cute!"
Meet Kaitlynn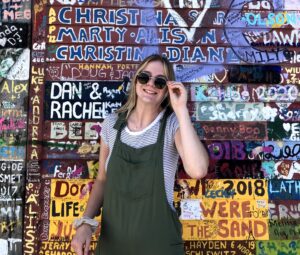 "I love being able to interact with a variety of different people across campus and getting the opportunity to learn about all the different services DoIT offers," says Kaitlynn Ellis, a senior in neurobiology and psychology, who also works as an agent for DoIT Help Desk. "Especially when I am on a longer phone call or troubleshooting a more complex issue, finally coming to a solution is super rewarding for both myself and the customer."
Hometown: Kenosha, Wisconsin
Favorite class: Psych 513: Hormones, Brain, and Behavior
Favorite thing about being in-person again: "Walking to and from class. I like to listen to music or podcasts and go out of my way to get a $5 iced coffee."
"My friends and I really enjoy watching movies together," Kaitlynn says. "We've recently been trying to get through a lot of the best picture nominations from the last few years. Over the summer we binged all of the 'Saw' movies and I can say the second one is the best."
Best Badger memory (so far)?
"Going to see a movie on the terrace one of my first nights on campus as a freshman is one of my favorite memories so far. I went with a stranger who lived in my dorm hall and she's now my best friend on campus."
Meet Ryan
Ryan Werner, who is pursuing his Doctor of Pharmacy (PharmD) at UW-Madison, also moonlights as a senior student team lead at the DoIT Help Desk. What's his favorite part of working at DoIT?
"I appreciate the opportunity to work on a multidisciplinary team with various backgrounds in engineering, programming, and so many more. They bring fresh perspectives that allow us to continuously improve the IT service support that we provide to campus," Ryan says. "Providing support for comprehensive applications is a rewarding experience that is also applicable to our healthcare system. Building experience troubleshooting IT applications is not all that different from troubleshooting insurance or drug therapy issues."
Hometown: Burlington, Wisconsin
Favorite class: Pharmacotherapy II
Favorite college memory (so far)? "I installed an HVAC system held up by command hooks in my apartment. There was metal ductwork running all over the place. My roommate hated it, but I loved it."
DoIT Help Desk: Must Love Dogs?
"I mean everyone knows this, but I love corgis," Ryan says. "Like, you've probably met people that like corgis. But I love them. I follow them on social media. I can name celebrity corgis off the top of my head. They are the most adorable little doggos that we have in this world. I have a saying that I tell my coworkers when life gets tough, 'Another day, another opportunity to pet a corgi.'"
Join Us On Social
Follow us to meet more of the people who make technology tick at UW–Madison, get tech tips, news, scam alerts, ways to stay safe and secure online, info about events and learning opportunities, and more. It's also a great way to stay up to date on major technology outages affecting the university.