With spring finals underway, Badgers who are trying to squeeze in some study time in College Library have a new tool to help them quickly find a spot to focus.
Starting April 28, a large digital sign at the entrance to the library began displaying colorful information showing how crowded the building's 4 biggest rooms are in real time. At a glance, students can see which rooms have the most available space—green for not busy, yellow for busy and red for "you should probably try a different room." Students can also preview how busy the library is before they leave home by visiting a web dashboard or using an app called Waitz.
The live occupancy information comes courtesy of a series of sensors deployed throughout the study spaces that continuously count how many wireless devices are nearby. The service then uses an algorithm to determine how full the space is at any given moment. The company that designed the system, Occuspace, promises it can measure the occupancy of large rooms with 90% accuracy.
The service has proved valuable at universities like Baylor, Iowa State, Purdue, Denver and UCLA. At Vanderbilt University, students reported "an overwhelming positive response" to using the Waitz app to navigate busy times in the dining halls and libraries.
For now, UW–Madison Libraries and University Housing are running limited tests of the Occuspace technology with assistance from Division of Information Technology staff. During this trial period, UW community members can see live occupancy information for College Library, as well as the large dining spaces in the Gordon Dining & Event Center and the Mendota overflow room in Dejope Residence Hall. They hope to gather enough data and feedback over the last few weeks of the semester and the summer to help them decide whether to scale up the service to serve more of the UW campus.
How it works
Unlike other services designed to monitor room occupancy, Occuspace sensors don't use video cameras, infrared or other technologies that raise privacy concerns and require extensive new wiring and infrastructure.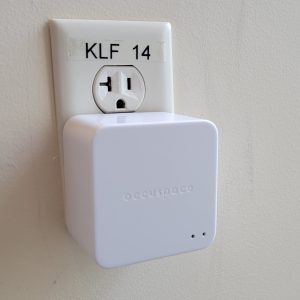 The sensors are small, white plastic squares that plug directly into standard wall outlets. Once plugged in and connected to the network, they continuously detect and analyze wi-fi and Bluetooth Low Energy signals from nearby devices like phones, tablets, laptops and smartwatches. One sensor can effectively cover 2,500 to 5,000 square feet, depending on the room layout.
After the sensors have collected enough data, Occuspace uses machine-learning algorithms to estimate the number of people in the room.​​ The company boasts that its system can accurately determine how busy a location is, especially in large rooms, and effectively compensate for how many devices people carry.
Occuspace pledges that the sensors do not collect personal information or track people while they navigate campus. The sensors can see the MAC addresses for devices ("media access control" addresses are essential for network communication), but they anonymize that information on-device before processing it and never save, log or transfer those unique addresses.
For their pilot program, UW Libraries has deployed 14 sensors on the 2nd and 3rd floors of College Library, placing them strategically where they're less likely to block precious wall outlets from students who need to plug in their laptops or charge their phones. Meanwhile, University Housing has 19 sensors active for their pilot: 17 in Gordon and 2 in the Mendota overflow room in Dejope.
A salve for growing pains
This new service has the potential to alleviate a growing issue that many campus visitors have first-hand experience with: long lines and lack of seating in shared spaces.
Buoyed by tremendous interest among admitted applicants, total enrollment at UW–Madison has increased by 28% in the last 10 years to nearly 50,000 students. This has led to an increase in the staff and resources needed to house, feed, educate and otherwise serve the student body.
That kind of growth inevitably strains systems and creates new challenges in managing campus spaces that were designed to serve fewer people.
"We've been full for years, especially during evenings. If you go to College (Library) during the semester, any Sunday-to-Wednesday night, it's very hard to find a seat," says Dave Luke, director of end-user computing services for UW Libraries. "On a Sunday night or during finals, you will see people sitting on the floor setting up house for a couple-hour study session because there's very high demand."
COVID-19 added to those challenges. Although many students visited shared spaces less often, the pandemic created new logistical challenges (social distancing requirements, hiring difficulties, supply chain issues, etc.) that made it all the more urgent to measure and control crowding in university facilities.
At one point, Housing assigned employees at the entrances to every campus market to count the number of people coming through the doors and update a website. It was essential but tedious work that used a lot of employee time and resources, and was unavoidably susceptible to human error.
Housing staff hope that Occuspace will provide the same benefits in a more accurate, user-friendly and easier-to-manage way that gives students important information as they navigate campus.
"I'm excited because we are giving students that tool," says Sathish Gopalrao, IT director for University Housing. "Personally, I hope everybody—or a majority of our students—will begin to look at Waitz every now and then to make their decisions."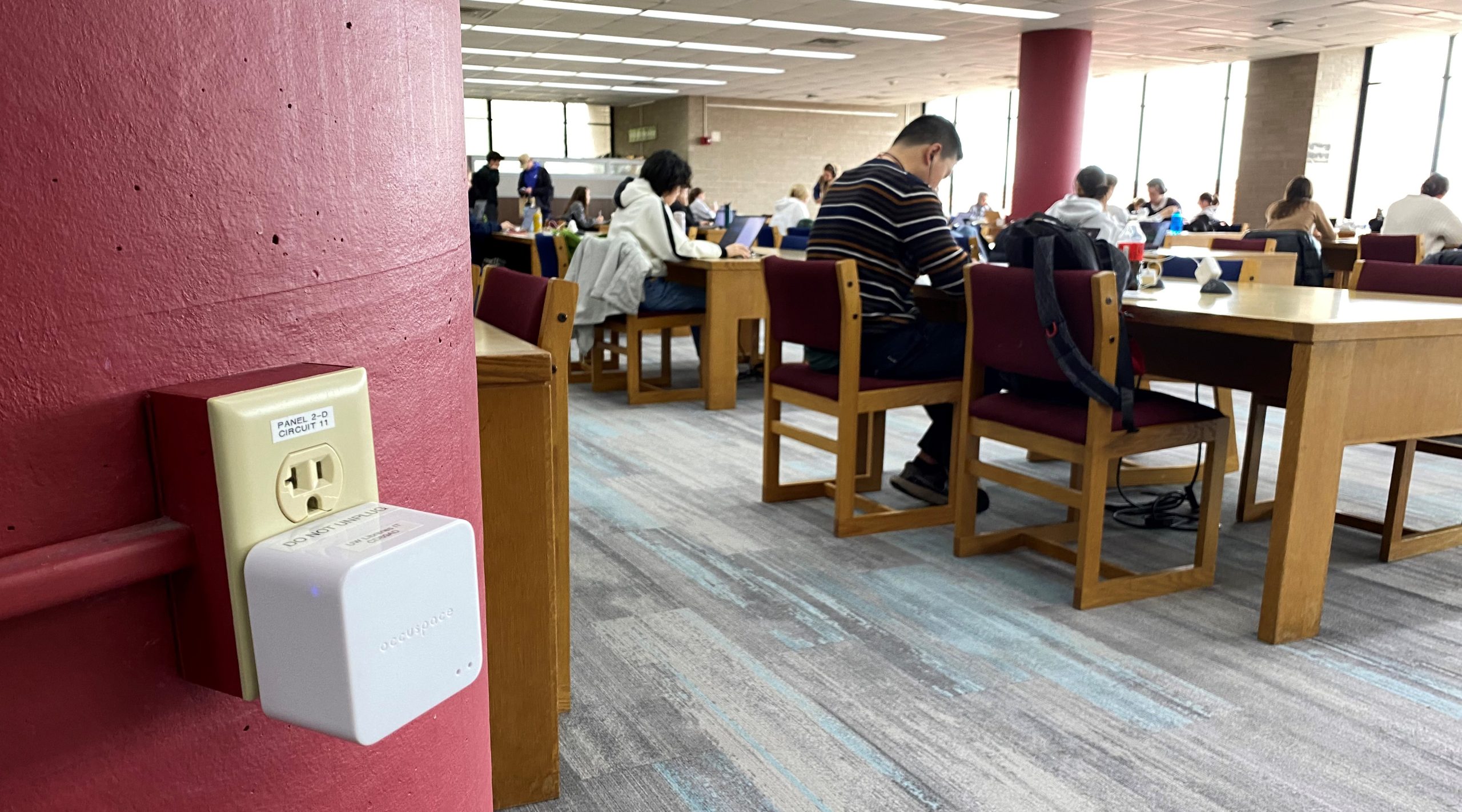 Early reception and next steps
How effective and useful the Occuspace service will be at UW–Madison remains to be seen, but the early signs have been promising.
The service has worked as expected so far, and while most of the campus community isn't aware of the service yet, the early feedback has been positive. In particular, the live display at the entrance to College Library has gone over well with the students who've noticed it.
"People are walking up and saying, 'Oh, that's really cool,'" says Dave Luke. "They're understanding it as soon as they see it, and they appreciate the information."
If the service proves valuable and popular during this testing period, it's easy to envision how other parts of campus life could benefit from this technology. Imagine previewing how busy the Terrace, Rathskeller and Sett are before heading out with friends to the Memorial Union or Union South. Or seeing how busy a shared space is at a school or college building when planning a study session. Occuspace could also provide a more efficient and scalable replacement for Recreation & Wellbeing's existing service, which requires facility staff to manually count people once per hour.
For now, Libraries and Housing staff plan to continue the pilot program through the end of the summer. They will evaluate the data and feedback in late summer or early fall and decide whether to expand the programs to other libraries and dining spaces. You can submit feedback about the pilot programs using the feedback forms on the Housing and Libraries websites.
Related