Don't delay, register today for the 8th annual Information & Technology Leadership Conference: 
Lead with bold IDEAs
Inclusion, Diversity, Equity, and Access(ibility)
Tuesday, November 30
8:30am to 3:30pm
Varsity Hall, Union South
OR your favorite remotely-connected location!
Please join your information and technology colleagues at the 2021 UW-Madison Information & Technology Leadership Conference (I&TLC) for an engaging conference highlighting ways to transform, create, coach, and grow through the lens of IDEA.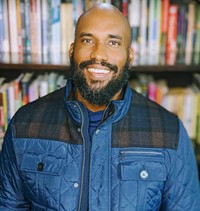 This year's keynote speaker is Anjuan Simmons, a consultant, technologist, and author. Anjuan has led software development teams for over two decades, and he excels at shipping features that customers love while also managing healthy teams. Anjuan's goal is to help everyone he meets become the best possible version of themselves.
Anjuan will be joining us virtually from Houston, Texas, and his talk will be broadcast in Varsity Hall. Look out for the full schedule of in-person AND virtual sessions and networking opportunities!
Registration for this year's conference is FREE for everyone. We invite all attendees to dine at their preferred local eateries. Coffee and water will be available in Varsity Hall throughout the day. 
Please register for the in-person experience if you intend to participate in ANY portion of the events hosted inside Union South. Otherwise, register for the virtual experience if you will not be joining us at Union South.