When Dave Schroeder was deployed with the Army National Guard to Fort Meade, Maryland, the last thing he and his wife Val needed back home in Madison was a hole in the roof.
With the delicate balancing act of caring solo for 2 school-aged children during a pandemic, there simply wasn't room on Val's daunting to-do list for home repairs—especially with Dave 900 miles away for well over a year, conducting cyberspace operations for the U.S. Cyber Command and the Cyber National Mission Force.
That's when it certainly comes in handy to have colleagues—and friends—like Terry Bradshaw.
When Bradshaw heard about the leak, he finished his day as DoIT's Data Center service lead and headed to the Schroeder home to patch the roof, giving Val one less thing to worry about—and peace of mind for his deployed colleague across the country. Later, when the Division of Information Technology needed to vacate some office space in the Computer Sciences building on campus, Bradshaw again stepped up—moving Schroeder's entire office for him.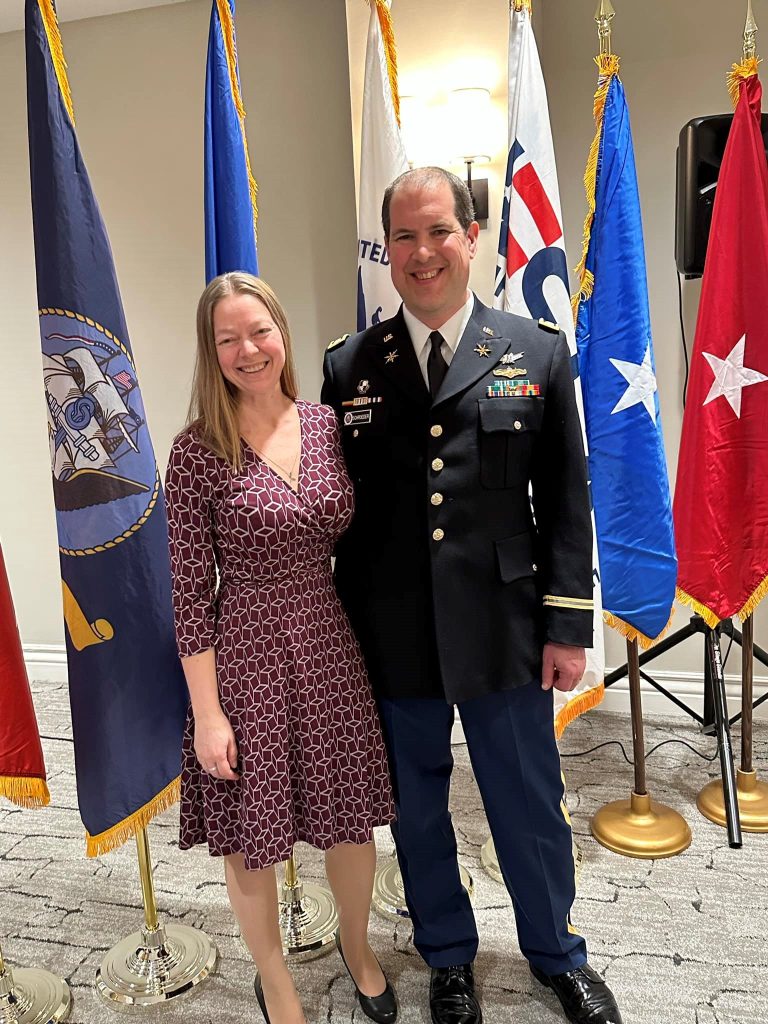 And when then-9-year-old Nathaniel Schroeder dropped a treasured gemstone down the bathroom sink, another DoIT colleague was ready to help. But while Dave Conner develops web and mobile solutions in his day job, this time he came through with perhaps a slightly less technical fix: a drain pipe search-and-rescue mission at the Schroeder home.
"It's always, 'Is there anything we can do?'" Schroeder says of his DoIT colleagues. "And that extends well beyond just work. From my coworkers to my supervisors, everyone has supported me, and I recognize that they also make sacrifices to accommodate my service."
Grateful for the support he and his family received during his deployment—both from his DoIT colleagues and from UW–⁠Madison as an employer—Schroeder nominated UW for a 2023 award from the Employer Support of the Guard and Reserve (ESGR). This spring, Wisconsin's ESGR state committee honored UW–⁠Madison with its "Above and Beyond Award."
The award recognizes UW for going "above and beyond" what the law requires for Guard and Reserve employees—from continuity of pay to extending health insurance benefits during deployments, drills and other military obligations, which military employees often must take on short notice.
"UW–⁠Madison has fully supported me through 2 mobilizations and other extended periods of active duty throughout 2022," Schroeder wrote in his nomination. "Via both official and unofficial channels, my employer and coworkers always made it clear that if my family needed anything, they were there to help."
In addition to roof patches and drain pipes, there's also the paperwork.
Schroeder credits DoIT Human Resources—and in particular, Payroll and Benefits Specialist Marissa Isensee—for helping him navigate the complexities of pay, health insurance and other benefits, both before and during deployments and other military exercises.
"I fill in one form and give it to HR, and they just make things happen," Schroeder explains.
"I want to contribute to something bigger than myself through my military service, but I have a family. And I have another career outside the military," Schroeder added. "So it really is important to me that I'm able to continue to serve and not have to worry about the continuity of things back at home."
Schroeder was again pleasantly surprised when benefits specialists from UW System, UW–Madison and DoIT reached out to him in June 2023 to resolve an error discovered in his differential pay from his last mobilization.
"It really just reinforces the reasons I nominated UW–Madison for this award," Schroeder concluded.
A nontraditional path to military service
To hear Schroeder describe how he wound up pushing 40—married with young children—and joining the Navy, it sounds a bit like navigating uncharted waters.
42 is the maximum age for joining the U.S. Navy's direct commissioning program, but most people enter the military right out of high school or college. Schroeder was 37—well into his career at UW–⁠Madison. He considered himself firmly mid-career, working at the time as a senior systems engineer in DoIT's Systems Engineering and Operations (SEO) department when he heard about a "really interesting opportunity" to become a direct-commission Naval officer.
The Navy was looking for specific specialized skills, and cyber was one of them—a great fit for his academic background and professional aspirations, Schroeder thought. Inspired and encouraged by then-director of SEO John Peterson, a retired Navy captain, Schroeder began the long application and selection process. In 2010, he was selected as a U.S. Navy Reserve cryptologic warfare officer—serving in the part of the Navy responsible for signals intelligence, cyberspace operations, and cyber and electronic warfare.
"You always hear, 'Join the Navy, see the world,'" Schroeder says. "For me, it was: Join the Navy and be a part of all of these exciting opportunities. And then bring that experience back to the university."
As the Navy puts it: "In this job, your knowledge of the cyber battlespace is unmatched."
Directly involved in every aspect of Naval operations, cryptologic warfare officers deliver information to decision-makers by attacking, defending and exploiting networks—all with the goal to capitalize on vulnerabilities in the information domain. They conduct computer network operations, develop cutting-edge exploitation and defense systems, and they analyze real-time signal intelligence.
In civilian terms? Their job is to keep us safe from cyber threats in a rapidly-evolving world.
And just as cybersecurity itself continuously evolves, so too did Schroeder. In 2020, he transitioned to the Army National Guard and now serves as cyber defense manager with the 176th Cyber Protection Team. The unit consists mainly of IT professionals who focus on cybersecurity, intelligence, law enforcement and business leadership at companies like American Family Insurance, the City of Madison, Amazon Web Services and Boeing.
"This is one of the areas where the Army National Guard really shines, enabling soldiers to bring their unique skills and expertise to bear on national priorities," Schroeder said.
And it was precisely this military experience that led directly to another one of his UW appointments, as national security research strategist for the School of Computer, Data & Information Sciences. Schroeder is also currently working on his PhD in cyber defense.
From deployment to DoIT: A critical cybersecurity expertise pipeline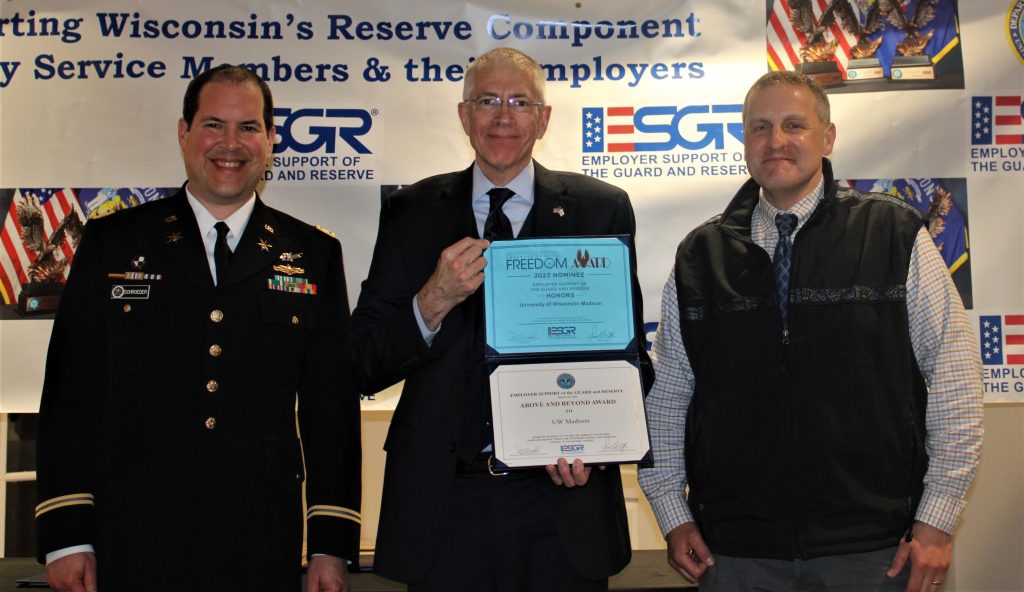 With his up-to-the-moment military knowledge in the cybersecurity arena, Schroeder readily brings fresh, always evolving experience from the 176th Cyber Protection Team back to campus, says UW–⁠Madison Chief Technology Officer Todd Shechter.
"Dave helps us create connections to Department of Defense research, runs tabletop exercises for undergraduate classes, and offers so much important expertise from his active duty and deployment experiences," said Shechter.
"I'm grateful to Dave not only personally, for his service to our country, but also for his role in keeping our campus secure."
Shechter accepted the Above and Beyond Award on behalf of the university at an ESGR banquet in March, describing the experience as a great personal honor. It was also an important reflection of widespread efforts within DoIT and across UW–⁠Madison to support our active, working members of the military, Shechter said.
"Our employees who are also active military service members add depth and perspective to our work," Shechter added. "They uniquely situate us to solve problems through the lens of their worldwide experiences and expertise. So it's important to make sure that as their employers, we make things as easy as possible and supportive for them 'back home.'"
Note: The Above and Beyond Award is currently on display at the Computer Sciences building, outside CS 2112, and DoIT employees are invited to stop by and take a look if you're in the building.