Curious how your Partners in Giving donation makes a difference? A new virtual Lunch & Learn series shows how participating charities put your generosity to work. At the October 18 session, we heard from disabilities services organizations including Special Olympics Wisconsin.
When Edward Kastern was 15 years old, he won his first Special Olympics gold medal in the 100-meter wheelchair race.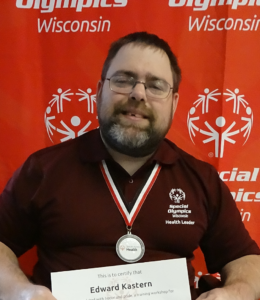 And from that first shining moment on the podium, he was unstoppable.
Next, he conquered the 200-meter. Then the 30-meter wheelchair slalom. Then he dove into shot put and discovered a zest for track events.
"The only thing for track that I haven't won a gold medal in is the softball throw," Kastern notes, ticking through a host of his accomplishments in over 30 years as an athlete, including gymnastics and powerlifting.
Next on his list? Golf and tennis. "And I want to do sit-ski really bad," Kastern shared with a laugh. "I'm trying to find a sled!"
With each competition, and each new challenge, he takes to heart the Special Olympics Athlete's Oath: "Let me win, but if I cannot win, let me be brave in the attempt."
"I live that message every day," Kastern said as he shared his story at the October 18 Partners in Giving Lunch & Learn, featuring Special Olympics Wisconsin and other disability services charities that benefit from Partners in Giving donations.
Kastern now works for Special Olympics Wisconsin as a unified leadership specialist, teaching and training new athlete leaders on topics ranging from healthy eating to government advocacy. Kastern describes it as his "dream job," helping to advance the mission of an organization that has played such an important role in his life.
Courage, joy, friendship
That mission? To provide year-round sports training and athletic competition in a variety of Olympic-type sports for children and adults with intellectual disabilities.
"This gives them continuing opportunities to develop physical fitness, demonstrate courage, experience joy and participate in a sharing of gifts, skills and friendship with their families, other Special Olympics athletes and the community," the Special Olympics mission statement continues.
The statement reflects a mission that has endured for more than 50 years, with the inception of Special Olympics in 1968, noted Special Olympics of Wisconsin Director of Health Programs Brittany Hoegh.
"We do what we do and we do it well," says Hoegh. "The only thing that's changed is we now say 'intellectual disabilities' instead of 'mental retardation.' And that was actually from the athlete voice."
Hoegh and Kastern co-presented at the Lunch & Learn—a reflection of the Special Olympics ethos that athletes play a key role both on and off the playing field. In addition to serving as staff members like Kastern, athletes also serve on the Special Olympics board and committees.
And though athletics is at the heart of everything the organization does, Hoegh notes: "There's a lot more to Special Olympics Wisconsin than just sports."
One example: More than 50 schools in Wisconsin participate in Special Olympics Wisconsin's Unified Champion Schools program, bringing students with and without intellectual disabilities together through education, youth leadership and sports. Among UCS participating schools, 86% reported a reduction in bullying, teasing and offensive language, Hoegh noted.
Delivering life-changing health care
Special Olympics Wisconsin has also emerged as a leading public health organization for people with intellectual disabilities. With nearly 1,800 free health screenings provided annually, Special Olympics Wisconsin's health program helps address health inequities and improve access to health care for athletes.
Because life expectancy for those with intellectual disabilities is 16-20 years less than their peers, the screenings help address a critical need, Hoegh notes, adding that people with intellectual disabilities have a higher tendency to be misdiagnosed or unable to express a health concern.
Among Special Olympics athletes, 37% have untreated tooth decay, 27% fail hearing tests, and 46% need prescription glasses. They're also twice as likely to have cardiovascular disease or asthma, and 5 times more likely to have diabetes.
Athlete screenings are how Kastern discovered he has high blood pressure, and Special Olympics Wisconsin also helped him obtain care for debilitating dental pain.
'Living the true dream'
From the ski slopes to the dentist's chair, Kastern says Special Olympics Wisconsin has given him much more than a hefty pile of gold medals.
"Special Olympics gives you the confidence and ability to let you achieve what you want to achieve," says Kastern.
"Because when I was 15 years old, I won my first gold medal and I'm like, 'I did this. So I can go out and do anything,'" Kastern adds. "I have a college degree. I have a daughter which I adore. Plus, I'm living my dream job… So, I feel like I'm living the true dream."
Find a cause close to your heart
Special Olympics Wisconsin is part of the Access to Community Services umbrella in Partners in Giving. When you donate to Partners in Giving, you may choose to give to umbrella organizations like Access to Community Services and several others. But you also have the option to browse the Partners in Giving booklet (or even search for specific keywords) to find organizations you'd like to support through your donation.
Next Lunch & Learn sessions
Charity Topic: Veterans
When: Tuesday, November 9, noon-12:30pm
Where: Virtual (register here)
Charity Topic: Children and Family Services
When: Tuesday, November 15, 12:30-1pm
Where: Virtual (register here)