The idea took flight on the green at a Division of Information Technology golf league outing.
While therapeutically thwacking their Titleists, UW colleagues Sara Tate-Pederson, Sandee Seiberlich and Annette Stratman-Durrer began chatting about the latest frustrations of the workday, as IT professionals working in a field in which women are often underrepresented.
"I don't know if it was somebody talking over me in a meeting, or someone dismissed me—but I do know I was really fired up about it," Tate-Pederson recalls, explaining how teeing off on a hole at the DoIT golf outing helped tee up a new grassroots initiative.
"After I put my club back in my bag, I remember turning to Sandee and Annette and it was like, 'You know what we need? We need a women in IT group on campus," Tate-Pederson remembers. "And Sandee and Annette both agreed: 'Yes, let's do something about it!'"
At the same time, Brenda Spychalla, who served at the time as co-chief information officer of the School of Education prior to her 2021 retirement, was also spearheading efforts to collect data about the salaries and roles for women working in IT at UW–Madison.
The two efforts merged, and in 2014, the UW Women In IT community was born.
Today, the growing 450+ member organization supported by the Office of the Chief Information Officer is dedicated to improving the recruitment, retention and advancement of people who identify as women working in IT roles across campus.
Tate-Pederson is proud to count herself among the founding members of this community at UW–Madison. And if you'll allow us just one more golf analogy: It's perhaps par for the course that she's now taking that passion to another level—recently named the new Exec Committee chair for the Big Ten Academic Alliance (BTAA) Women In IT community.
'There is still work to do'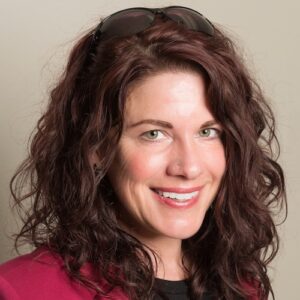 An IT policy writer and analyst with UW–Madison's Office of Cybersecurity, Tate-Pederson has served in various roles with UW Women In IT, most recently as co-chair with Jess Jones, interim director of the Center for User Experience. And as she leaves her UW Women In IT leadership role to lead BTAA efforts to strengthen recruitment, retention and advancement of women in IT across the Big Ten, Tate-Pederson says she looks forward to the challenge.
"There is still work to do. There are still disparities in salary for women in the field of IT. There is still rampant sexism and genderism that goes on," Tate-Pederson says.
"And so if there is still work to do, and if women are still experiencing these disparities when they go to work every day, then I am going to keep pursuing avenues of opportunity wherever I can help move the needle."
A sociologist at heart (she minored in the social science in college), Tate-Pederson is also excited to work at the broader Big Ten level to help lead through the massive socetal and workplace changes brought on by the pandemic. An avid reader of publications like Forbes and Harvard Business Review, Tate-Pederson enjoys reading articles about higher education and business—and analyzing how people are interacting with one another as campuses "return to normal," rolling with the pandemic punches as higher education continues to navigate COVID-19.
"This is going to be a lot harder than it was when we had to pick things up and go remote at the beginning," Tate-Pederson says. "This transition is going to be so difficult for everyone to navigate because our brains have been essentially rewired. It puts you in fight-or-flight mode—and if you're in that state for too long, it causes a lot of stress."
"I want to help lead folks through the change and to help mitigate that stress," she explains. "And I want to make sure that folks are being taken care of—specifically, women in the area of IT."
Doing so on a bigger scale, from the Big Ten perspective, is one of the things that drew Tate-Pederson to want to lead the BTAA WIT peer group. She had previously served as a UW–Madison representative on the steering team while simultaneously co-leading UW Women In IT, and says she was honored to receive multiple nominations for the BTAA chair role from her Big Ten peers.
Being better allies
Another goal Tate-Pederson intends to pursue as chair is to advocate for allyship for women working in IT. She shared an example of a colleague who pursued a new role, but she didn't know how to look out for herself when it came to salary negotiation. So Tate-Pederson shared information her colleague could leverage to negotiate a better offer.
"We talk about men and women and gender a lot, but there's also this need for women to be better allies to each other in our shared spaces. It is so important," Tate-Pederson says. "When you have knowledge about something, share that with your fellow women colleagues. Let's try to do that every single day to empower each other."
(Interested in hearing thought-provoking stories and learning some tips for everyday actions you can take to create a more inclusive, engaging workplace? Watch the recording of the recent UW Women In IT event, a fireside chat with Karen Catlin, author of Better Allies.)
Sharing knowledge, shining light
Reflecting on the UW Women In IT accomplishments that mean the most to her, Tate-Pederson notes the many educational events the group has organized, including sessions on topics like how to beef up your resume and cover letter, creating your own brand and tips for putting yourself out there on LinkedIn.
Tate-Pederson also points to another meaningful event organized by UW-WIT that aimed to shed light on gender discrimination in IT: The screening of the 2015 documentary "CODE: Debugging the Gender Gap" at Union South.
The film exposes the dearth of female and minority software engineers and programmers and challenges complacency in the tech industry, addressing a key question: Why aren't more girls and people of color seeking opportunities in computer science?
Women interviewed for the documentary shared sometimes harrowing experiences about the sexism and discrimination they faced while working in IT, including receiving serious threats online. Tate-Pederson described the film screening as an emotional, illuminating and enduring experience.
"Some people may not believe that sexism in IT is still a problem. To help people see that we still have work to do… that was a proud moment for UW-WIT, when we could open some eyes," Tate-Pederson remembers.
Center for User Experience Interim Director Jess Jones serves as co-lead for UW Women In IT, and describes connecting with Tate-Pederson in the 2017-2018 IT Leadership Program as "one of the luckiest experiences of my career."
"From the first time we met, she spoke of equity and inclusion in IT. She's always thinking about and carrying those core values with her," Jones says. "Working with her as a co-lead on UW-WIT, she's taught me, through her own actions, daily practices to lift others up—and how to approach tough conversations with kindness first."
"I can't wait to see the important things she will make happen in her new role with BTAA WIT," Jones added.
A collector: Of information, rocks and mountain views
When she's not working to build consensus and collaboration across campus as she works in her day job writing IT policy, you might find Tate-Pederson building equally complex creations in another medium: LEGO. If you're lucky enough to participate in Zoom meeting with her, you'll marvel at the large LEGO builds on the shelf behind Tate-Pederson's home office desk, including the towering Ninjago City (in all its 4,867-piece ninja glory, for the record).
A hobby geologist, she's also amassed an impressive collection of rocks, minerals, tumblers, diamond testers and Dremel tools in her garage sanctuary—a remote work substitute for her on-campus sanctuary across the street from her office at Computer Sciences: the UW Geological Museum.
"My garage is my zone. It was one of my crowning moments during the pandemic when I knew I was agile and resilient," Tate-Pederson says with a laugh, describing building her own personal mini geology museum and admitting that she "got crazy with the Amazon," ordering scientific instruments and tools to study the rock specimens she's collected.
She'll get the chance to explore another geology sanctuary with James this fall on their trip to Mammoth Cave and Shenandoah national parks, on their way to the Great Smoky Mountains. The duo loves to travel—whether it's to the Mall of America to pick up cool LEGO sets, or to watch the total eclipse at Jackson Lake in the Grand Tetons.
And much like a good road trip that can meander a bit and take twists and turns, that's just how Tate-Pederson found herself in an IT career: "It happened. It just happened," she says.
When Tate-Pederson was in junior high school, she remembers taking trips to Lansing where her grandmother worked for the State of Michigan. "I'd be in the computer room while she was doing mainframe backups," Tate-Pederson remembers.
That led to a student job after high school with her grandmother's employer, answering phones for the Office of Technology Resources Help Desk. Tate-Pederson eventually moved into a desktop support position with the Michigan Public Service Commission, where she worked while going to school to become a teacher.
After a 9-year trek, working while obtaining her undergraduate degree, Tate-Pederson moved to Madison and taught at-risk middle school students in Wauwatosa.
"It was very intrinsically rewarding," she says. "But it didn't pay the bills. And the commute was just arduous."
And so Tate-Pederson's professional path took another turn when she got a limited-term position at Broadcasting and Media Innovations at the University of Wisconsin-Extension, now the home of Wisconsin Public Radio.
"I've been in IT ever since," Tate-Pederson says.
Now in her 26th year working in IT, she hasn't looked back. In her current role in cybersecurity with UW–Madison, Tate-Pederson says she finds fresh motivation in her work every day.
"Security is so hot right now. I watch a lot of true crime documentaries, and being in the realm of cybersecurity, it's like you're bustin' the bad guys!" Tate-Pederson explains with a laugh. "And I love it."
Join UW Women In IT
UW Women In IT will be seeking new steering committee members as Tate-Pederson rolls off of the co-lead role to focus on her BTAA WIT role. To learn more about the call for membership, join the UW Women In IT email list. (You can learn more about how to join a Google Group here.)