The Project Management Office is here to help you achieve your project goals. We help you define a clear path to project success, identify and resolve issues and conflicts, and keep your experts and stakeholders focused on what matters.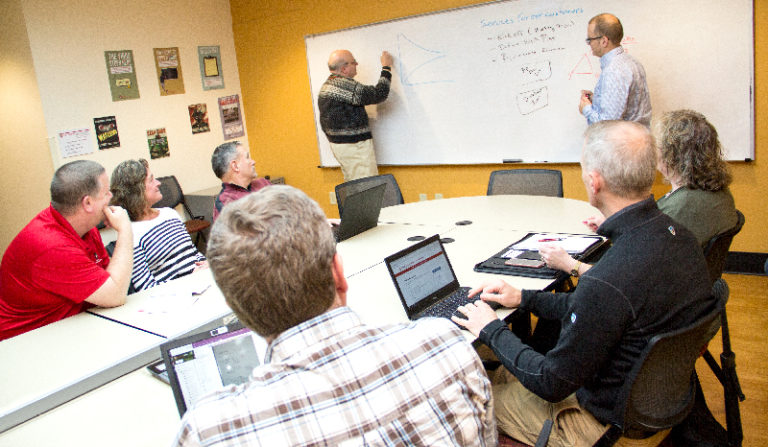 Working together is better
At their core, Project Management and Business Analysis are about successfully getting things done. This is best achieved by working together as partners.
Partnering with you for the success of your project is what the Project Management Office is all about.
Working with our project manager from the DoIT PMO was certainly a key to the success of our project. Our PM was able to capitalize on previous experience with other parts of the campus in order to share information, provide insight on processes, and leverage the people network that they built in their previous projects — all of which contributed to efficiencies within our project. We were always grateful when our PM was in the room, as we could expect a clear agenda, detailed notes and near-immediate follow-up. Our PM was always highly available and quick to respond.

Nick Tincher
CIO and Director of Information Technology
Office of the Vice Chancellor for Research and Graduate Education
Project Highlights
This is an accordion element with a series of buttons that open and close related content panels.
UW Madison HIPAA Risk Analysis
Completing a HIPAA Security Risk Analysis is a legal requirement of the HIPAA Security Section 45 CFR §164.308(a)(1)(ii)(A) "Conduct an accurate and thorough assessment of the potential risks and vulnerabilities to the confidentiality, integrity, and availability of electronic protected health information held by the [organization]." The UW-Madison HIPAA Risk Analysis Program will be conducted in two phases with each phase resulting in a Risk Assessment Letter and an Aggregated Analysis Report. The UW-Madison Risk Analysts and UW-Madison Project Manager will engage all units designated in the UW-Madison Health Care Component (from HIPAA Policy 1.1) and all units with access to Electronic Protected Health Information (ePHI). To-date, 91 units have been identified as potentially requiring analysis.
Sponsors:
Bob Turner – Chief Information and Security Officer, Office of Cybersecurity
Cathy Trueba – Director, Office of Legal Affairs
Amanda Reese – Interim, HIPAA Privacy Officer, Office of Legal Affairs
Stefan Wahe – Deputy Chief Information and Security Officer, Office of Cybersecurity
Enterprise Unified Communications
UW–Madison is transitioning to a new voice and voicemail platform. The longtime State of Wisconsin Department of Administration (DOA) contract for AT&T Centrex (analog and ISDN) telephone service has ended. The DOA extended the current contract for Centrex voice telephone services with a significant rate increase. AT&T also indicated that it would stop supporting this service by 2020.UW–Madison will be using Cisco VoIP technology with access to the telephone network for local and long-distance calling via AT&T. This will be the standard supported telephone service for UW–Madison. The project is scheduled to be completed by the end of December 2018 with Unified Communications features (Webex Meetings & Webex Teams) becoming available by Fall of 2018.
Sponsors:
Mike Lehman – Interim, Chief Information Officer
Jeanne Skul – Director, DoIT Network Services
Salesforce Customer Relationship Management Student Recruitment
The University of Wisconsin – Madison Office of Admissions and Recruitment (OAR or Undergraduate Admissions) and Division of Continuing Studies (DCS) implementation of a relationship management (CRM) system to improve recruitment and relationship building, improve data management relating to relationships, communications, and reporting across campus systems. The primary audience to be tracked within the CRM will be prospective students and related people (parents, school counselors, guardians, spouses, employers). A CRM will track most prospective student activity, especially marketing and recruitment communication content and outcomes (email, phone, in-person, direct mail, etc.). It will also connect data relating to prospective students (for example test scores, event registration, submission of an admission application, admittance, payment of enrollment deposit, and enrollment of the student) so that the CRM can offer powerful analytics, reporting, and process automation leading to more effective and efficient recruitment outcomes.
Sponsors:
Steve Hahn – Vice Provost, Division of Enrollment Management
Jeffrey Russell – Vice Provost for Lifelong Learning and Dean of Continuing Studies
UW System Business Intelligence Implementation
The University of Wisconsin System (UWS) proceeded with a new Business Intelligence (BI) tool to replace a legacy, system-wide reporting tool, Oracle's Brio/Hyperion Interactive Reporting (IR). This change was necessary because Oracle's software support ended on June 30, 2017. An RFP was issued and the contract was awarded to Oracle OBIEE 12c product in December 2015. The conversion process began in January 2016 with the installation of one common system to be used by all campuses and institutions. Each campus was then migrated to the common system and continue their migration onto the new platform through December 2018.
Sponsors:
Kathy Luker – Product Owner, Office of Quality Improvement
David Stack – Interim Chief Information Officer, UW System
Career Services - Handshake Selection and Implementation
As indicated by the December 2016 Career Services Task Force report, the decentralized nature of career services at UW-Madison is a barrier to serving students, employers, and staff in a consistent manner across schools/colleges and to the collection of high-quality university-wide assessment data. Phase One (June 2017 – Dec 2017) executed an RFP and selected Handshake as an enterprise, career services platform for the institution. Phase 2 (Jan 2018 – June 2018) implemented this solution to facilitate improvements to the overall career services experience for students, staff, and employers.
Sponsors:
Wren Singer – Director, Office of Undergraduate Advising
Steven Cramer – Vice Provost for Teaching and Learning
WordPress Content Management System Implementation
The UW-Madison campus has a new, improved option for building and maintaining websites. A 24-month collaborative effort by 10 colleges and divisions has merged multiple WordPress Content Management System (CMS) services into one CMS Hosting Service. The result is a cost-effective, efficient, and scalable offering that will evolve and improve through shared governance. In the future, the service may also support other CMS platforms such as Drupal. The new service uses a cloud-based, centralized infrastructure to provide colleges, units, and departments with a standard set of CMS features. An optional second level enables customizations.
Campus CMS Partners: Campus Libraries, College of Agriculture and Life Sciences, College of Engineering, College of Letters & Science, Division of Information Technology, Graduate School, Law School, Registered Student Organizations, School of Education, School of Business, and University Marketing.
Sponsors:
Melissa Tran – Director, DoIT Enterprise Internet Services
Jason Pursian – Interim CIO, College of Agriculture & Life Sciences
Business Analysts Help with
Project definition
Support for your RFP process
Business case development
Requirements elicitation and analysis
Business process improvement
IT Governance proposal assistance
Project Managers help with
Project monitoring and controlling
Project timeline and tasks
Consistent, timely communications
Risk management
Managing stakeholder relationships
Capacity management
We take a customizable approach
The Project Management Office approaches every project as unique. We adjust to meet your needs. We offer a wide range of skills, services and tools ready to deploy to help you accomplish your goals.
It's all about you and your project purpose.
Project-Related Communities of Practice